Papaya Salad with Papaya Seed Dressing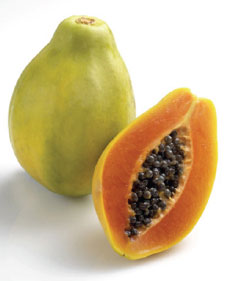 2 C. Spinach
2 C. Romaine Lettuce
2 Large Papaya; peeled, seeded, and cut into 1 inch pieces, reserve seeds and 1/2 of fruit for dressing
1 kiwi fruit; peeled and sliced
1 Tangerine; peeled and sectioned
1/3 C. pine nuts

Arrange spinach and romaine lettuce leaves on a plate, add papaya, kiwi, and tangerine. Top with pine nuts and dressing.

Dressing
1/2 of papaya fruit from above
Approximate 2 Tbsp papaya seeds from above, adjust amount to fit your spice needs
Juice of 1 lime
1/2 tsp dijon mustard
1 shallot, chopped
1/4 tsp salt

Add all ingredients into a food processor or blender and blend until smooth. If you need a thinner consistency you can add some water.