Rankin Inlet, Nunavut, Canada

Kathleen Merritt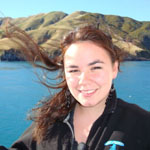 Kathleen is a very energetic, young Inuk who grew up in Rankin Inlet, Nunavut. She has been drawn to learn more about her culture and about the environment that surrounds her. Her drive to become closer with the ancient Inuit culture has led her to become a skilled Throat Singer and performs regularly to raise awareness of this ancient art. Through her studies at Nunavut Sivuniksavut, she has become very interested in the changing Arctic. Over the last year, she has learned a lot about changes the Inuit have gone through in the past and how the changes have had some negative impacts on Inuit life, simply because it happened too fast and Inuit as a people we're not prepared. She has realized that global warming, will affect her culture and their way of life. People in the north will come to experience just as much change as Inuit in the past, and the changes are already taking shape. She wants to help raise the awareness of the impending affects to the northern people and prepare them for the coming years. Kathleen sees this expedition as another learning tool, a way to expand her knowledge of the reality that Northern Canada faces. Her goal is to come back from the expedition and share her memories and experiences with other young Inuit, as well as other Canadians. She feels, it is important that people are educated about the world around us. Kathleen is confident this journey will be an experience that she utilizes in the future to inspire and educate those she comes in contact with.
Yellowknife, NT, Canada

Thomsen Dhont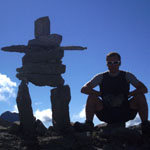 Thomsen is a 20-year old Métis hailing from Yellowknife, NT who pursues his Olympic dreams full-time as a professional cross country skier based out of Whistler, BC. Since the age of 17 he has been co-owner of Mountain Bike Madness, a summer day camp based out of Yellowknife. The camp focuses on getting kids ages 9-13 outdoors, having a great time, and living healthy lifestyles. Although school work is currently taking a backseat in his life, Thomsen continues to dabble in part-time correspondence studies, with a general interest in the Sciences. Although he specializes in races less than 3 minutes in length, Thomsen got his first taste of Ultra racing in March 2009 by winning the diamond in the 3-day, 135km Rock and Ice Ultra K-Rock ski race and plans to compete in similar events in the future. With a keen interest in the environment and a strong connection to the North, Thomsen is extremely excited to share the experience of hiking the Akshayuk Pass this fall.
Murrieta, California, U.S.A.

Amanda Cobbs-Russell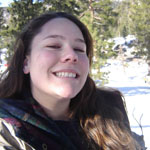 Amanda is a hard working college student with dreams of venturing into the non-profit world upon graduation. Even though she lost her mother at an early age it has not stopped her from achieving her life goals. With support from her father and her boyfriend Marcus she dedicates herself to her studies and her passions. She feels her life experiences have instilled a deep love for life, exploration, and an insatiable thirst to do the best she can to make this world a better place. She loves simple things, simple joys, and little acts of kindness. She has been called an "old soul with a young heart." Amanda believes through her soul that she can be the change she wishes to see in the world. She majors in conservation biology at the University of California Riverside and works as volunteer at the Riverside Humane Society as a cat and dog socializer. Between quarters at school she works at UC Riverside in dentrification and soil/water quality sciences. She loves to skateboard, kayak, swim, rock climb, and play team sports. She is a southern California native with a love for the north and the frigid cold!
Lombardy, Ontario, Canada

Tamara Banks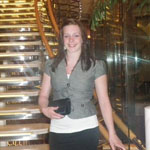 Tamara is a lifelong athlete, competing in gymnastics since early childhood. As a young teenager she competed at the provincial level in trampoline and gymnastics and is now continuing her passion through coaching. The vigorous training and conditioning over the years has allowed her to develop an extremely strong work ethic. The countless hours of hard work taught her how to push beyond her perceived limits to achieve what she thought was unreachable. This dedication showed when her best friend was diagnosed with terminal liver cancer. Tamara and three others championed an effort and raised $30,000 to help the family with medical expenses. Through their efforts they helped the family through a very difficult and trying time. Her friend was able to receive a liver transplant and is now fully recovered. Tamara is truly honored to be part of the i2P Baffin Island Expedition and she feels this is a once in a lifetime opportunity. She desires to learn and experience life to its fullest, to learn new things and to see the world. She also has a commitment to convey her experiences to others, and in particular her peers in a way that engages them in setting out on their own exploration of the diverse nature of our world.
Parma Heights, Ohio, U.S.A.

Sandi Nypaver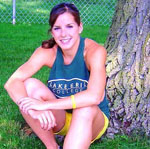 Sandi is co-founder of a student volunteer organization at Lake Erie College called "Students Making a difference". The group focuses on volunteer activities around the community, and their goal is to inspire not only the student body at school but also the surrounding community to help others in need. Life has not always come easy for her, growing up for most of her life in a single parent family she has learned the value of hard work and dedication. She is a natural athlete and is currently a member of the Women's basketball team for her school. Recently, she has found a passion for endurance sports, competing in triathlons and a ½ marathon where she placed second in her age group. She feels as though the challenges of the Baffin expedition will be a tremendous learning experience that will help her in all aspects of her life.