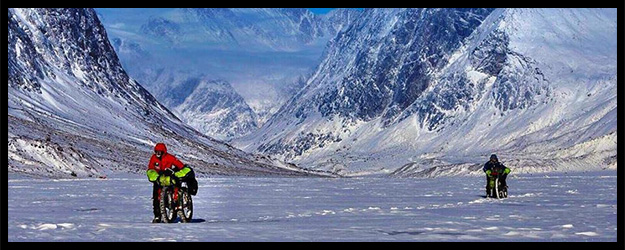 Team Arctic Extreme
Our Team is not just the three people you see below, but a collective of amazing individuals working towards one goal together!!! From our good friend Billy Arnaquq in Qikiqtarjuaq, to Jordan Thoms coordinating content and storytelling back home...to Leanne Richardson and Matt Howe fielding calls from schools and to Bob Cox connecting this expedition to future i2P Youth Expeditions...to Kathy, Mike Stashin, Brad Smith and The Bohns' helping us with gear and many, many more! We value your friendship, and you inspire us with your generosity in giving us your time.
---
Ray Zahab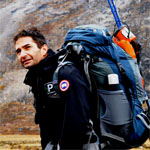 In 2006/7, Ray and two other runners ran the entire width of the Sahara Desert-7500 kms (4600 miles) in 111 days with no rest days-and in the process learned of the seriousness of the water crisis in Africa. The run was documented in a film directed by Oscar winner James Moll and narrated by Matt Damon. Ray is the founder of impossible2Possible-an organization that aims to inspire and educate youth through adventure learning, inclusion and participation in expeditions. He has served as board member of Ryans Well Foundation and ONExONE Foundation. Ray has completed multiple expeditions to date including a 1,200km run length of Atacama Desert, 1,130km unsupported trek to Geographic South Pole, 2000km run across the Gobi Desert, 1000km across Patagonian Desert, 650km unsupported winter traverse of Lake Baikal in Siberia, and 12 i2P Youth Expeditions. He is a recent recipient of the Meritorious Service Cross of Canada. For more info visit RayZahab.com.
Stefano Gregoretti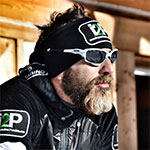 An accomplished triathlete, and winner of multiple ultra marathons, Stefano and Ray have completed many long expeditions together. Most recently, Stefano teamed up with Ray Zahab and Jen Segger to ride fat bikes across the Canadian Arctic- from Qikiqtarjuaq to Pangnirtung, over Ba n Island. He as well joined Ray on a 1,000km run across the Patagonian Desert in which they ran across South America, coast to coast. Passionate about youth and adventure, Stefano is the Founder of i2P Italia, in his home of Italy. He is a volunteer in this a liate organization of impossible2Possible. Stefano is a successful agronomist working to preserve trees in his native Italy and all over Europe.
Jon Golden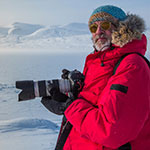 Jon Golden has been working as a professional photographer for 25 years. His assignments have taken him to over 40 countries and required him to sail more than 20,000 miles at sea. Jon has produced stunning images, documenting some of the worlds most remote and harsh places including Baffin Island (Canadian Arctic), Gobi and Patagonia deserts of Mongolia and Argentina, the Amazon (Peru), and northwest Iceland. His images have been published in many major U.S. magazines including Newsweek, Sports Illustrated and Virginia Quarterly Review. Jon is also a founding member of "LOOK3 ­ Festival of the Photograph". Much of Jon's career has been focused on promoting the work of nonprofits, which include the Building Goodness Foundation in Haiti, Guatemala and Louisiana, Firefly Kids in Russia, Impossible2Possible, The Nature Conservancy and the Amazon Aid Foundation. Jon studied Environmental Science and Computer Science at the University of Virginia. He lives in Charlottesville, Virginia and loves to travel and cook.
Ewan Affleck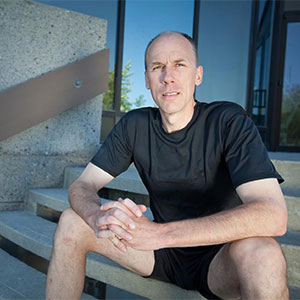 Ewan is a decorated endurance athlete, and has been a volunteer with impossible2Possible since its inception. He has participated in 9 i2P expeditions. A graduate of the McGill School of Medicine, and Dalhousie University where he studied history, Ewan has worked and lived in northern Canada since 1992. He was the long serving Medical Director of the Yellowknife Health and Social Services Authority and Clinical Director of Family Medicine at Stanton Territorial Hospital until 2015, when he assumed the role of Chief Medical Information Officer of the Northwest Territories. A digital health information systems expert, he pioneered the implementation of an enterprise electronic medical record system in the Northwest Territories based on the concept of networked health. A member of the Board of Directors of the Canadian Medical Association and its subsidiary, Joule and a faculty member of the University of Calgary, he maintains an active clinical practice, teaches, and provides both hospital-based and remote community services. He is passionate about developing sustainable health services for northern communities. In 2013 he was appointed to the Order of Canada for his contribution to northern health care.