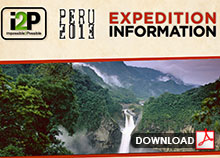 Expedition document (pdf)
The 8th stop in the impossible2Possible World Expedition Series is Peru. The route for the i2P Expedition Peru is one of the most bio-diverse on the planet, crossing 11,000 feet in elevation, from the high Andes plateau to the bountiful ecosystem of the Amazonian jungle in Manu National Park. A team of five Youth Ambassadors will attempt to run a marathon per day for 6 consecutive days! As the elevation changes over the course of their journey the i2P team will travel through one of the richest gradients of ecosystems on the planet.
Expedition Theme
The i2P Expedition Peru will focus on Ecosystem Services. Ecosystem services are the collection of benefits that ecosystems provide to humanity. The ultimate goal of the education program is to provide Youth Ambassadors and learners following the expedition, the knowledge and tools needed to:
Describe ecosystems,
Establish the value of ecosystems,
Describe the impact of human activity on the ecosystem, and
Develop strategies to mitigate the loss of ecosystem services.