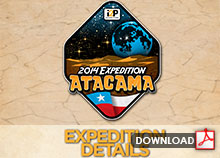 Expedition document (pdf)
For the 9th stage of the impossible2Possible World Expedition Series a Youth Ambassador team will venture to a place where Founder Ray Zahab was pushed to the limit. In 2011 Ray ran 1200 grueling kilometers in 20 days across one of the driest and most unforgiving places on earth - the Atacama Desert in Chile! The i2P youth team will re-trace part of Ray's expedition and run an average of a marathon per day for six consecutive days! The challenge will test their perseverance, resiliency, and dedication while they Educate, Inspire, and Empower thousands of students around the world!
Simon Fraser University (SFU) will again develop an incredible challenge-based Learning Program that will be delivered free to schools around the globe. If you are between the ages of 17-21 and are ready to take on a challenge that will most defi- nitely change your outlook on life, then Ray Zahab, Bob Cox, and the rest of the i2P team invite you to fill out an application!
Expedition Theme
According to the Boshongo people of central Africa, in the beginning, there was only darkness, water, and the great god Bumba. One day Bumba, in pain from a stomach ache, vomited up the sun. The sun dried up some of the water, leaving land. Still in pain, Bumba vomited up the moon, the stars, and then some animals. The leopard, the crocodile, the turtle, and finally, man.
This creation myth, like many others, tries to answer the questions we all ask. Why are we here? Where did we come from? The Atacama Desert is one of the best places on the planet to view the night sky. Universities from all over the world have telescopes built high in the mountains that rim the desert. These scientists are asking the same questions humans who have looked up at the stars - why are we here and where do we come from?
The theme of the Spring 2014 i2P youth expedition to Chile's Atacama Desert is the "Origins of the Universe". During the expedition i2P will consider how was the universe formed, what the basic building blocks of life are, and if there is life on other planets.