Starting early in the morning August 26th, 2011, Ray Zahab will join friend Will Laughlin in an attempt to run the length of Death Valley- from north park boundary to south park boundary. The distance will be close to 300km (180 miles), and the duo will rely on water re-supply every 20-30km during the entirely off-road run!
Will Laughlin will be putting his latest venture to the test- Nut-rients peanut butter fuel! Check their web link for more details.
Ray will be testing gear, new technologies and foods to be used in upcoming expeditions- most importantly for the i2P India Youth Expedition this October, and a January attempt to run 2,000km across Saudi Arabia (back-up plan Kalahari).
During the run, the duo will carry emergency supplies, food and fluid required for each 20-30 km section. Running packs will be heavy with 7-8 liters of fluid required for each leg. You will be able to follow us on our (hopefully!) 4 day project on Facebook and this website. We are keeping things very simple. Some photos and videos before and after- and some voice blogs during. We might get the chance to upload video during- so keep an eye on the homepage! There as well will be a Tracker page which will collect data on all of our movement- and non-movement!
Death Valley National Park is a national park in the U.S. states of California and Nevada located east of the Sierra Nevada in the arid Great Basin of the United States. The park protects the northwest corner of the Mojave Desert and contains a diverse desert environment of salt-flats, sand dunes, badlands, valleys, canyons, and mountains. It is the largest national park in the lower 48 states and has been declared an International Biosphere Reserve. It is the hottest and driest of the national parks in the United States. The second-lowest point in the Western Hemisphere is in Badwater Basin, which is 282 feet (86 m) below sea level.
Will and Ray's Bios!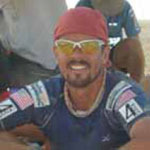 Will Laughlin began his ultra running career six years ago at the Sahara Race, where he met his friend and coach, Ray Zahab. "Ray had his hands full winning that particular race but took a huge amount time over those six days in the desert to mentor me as a racer," says Will. "He's just a very generous guy." The two have been friends ever since.
Will has since enjoyed numerous international wins and records, including first place in the coldest ever Yukon Arctic Ultra (100 miles in -65 degree cold) and the course record for soloing the 200-mile Wild West Relay (57 hours). Last December, Will became the first person to run across Costa Rica in a single effort, covering 261 miles and 80,000 feet of elevation change—equivalent to more than three Everest ascents and descents—in 81 hours.
A writer and entrepreneur, Will views extreme running as the ultimate vacation. "I get into kind of a dream state, where my thoughts flow loosely and without a logical sequence. It's like turbo-charged meditation; it relaxes me while producing the occasional epiphany. Running gives me a daily vacation from life."
During their upcoming "vacation" in Death Valley, the two friends will be testing prototype product for Nut-rients, a company that produces healthy, nutrient-fortified peanut butter and donates a percentage of its profits to feeding malnourished children with—what else—nutrient-fortified peanut butter! Will is the co-founder of Nut-rients and says that their first three flavors—CocoPeanut™, Himalayan Zingi Ginger™ and Aztec Cinnamon-Chia Crunch™—will be available this fall. Stay posted!
---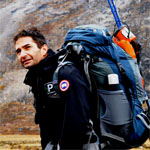 On November 1, 2006 Ray Zahab and two other runners set out on an epic expedition to cross the Sahara Desert by foot. One hundred and eleven days and 7500 kms after leaving the coast of Senegal they completed their journey stepping into the Red Sea. The epic expedition had the trio running an average of 70km's a day, without a single day of rest. National Geographic tracked this epic expedition by web, and the documentary film 'Running The Sahara' - produced by Matt Damon, directed by Academy Award winner James Moll - was filmed in an effort raise awareness for the drinking water crisis in Northern Africa. After witnessing and experiencing the water crisis in northern Africa, Ray decided to leverage his future adventures to raising awareness and funding for causes that he supports and believes in. Running The Sahara would begin a journey of discovery- of learning that some of the largest barriers to success are the ones we put upon ourselves. Breaking these down, we can truly achieve extraordinary things.
In 2007, Ray ran the three coastal trails of Canada, back to back and non-stop. The Akshayuk Pass on Baffin Island, East Coast Trail Newfoundland and West Coast Trail in British Columbia, 400km total.
Motivated by the Sahara run- Ray conceptualized the CanadaONExONE Run in May 2008. Along with a team of runners, Ray ran an average 80 kms per day in each of Canada's 13 Provinces and Territories in so many days. Schools were visited, students participated, and communities became engaged in many of the child based issues ONExONE is addressing. In Saskatoon alone, several thousand students and 27 schools were involved in school rallies and a city wide relay with Ray and the team.
Two years after touching the Red Sea, Ray, and two other Canadians, broke the world speed record for an unsupported expedition by a team to the South Pole (33 days, 23 hours, 55 min). In the process, Ray trekked this traditional route from Hercules Inlet to the South Pole solely on foot and snowshoes- without the use of skis. Students and classrooms from all over North America joined the team as they trekked to the South Pole on a daily basis- communicating and actively taking part in an educational resource- becoming "team mates" of the expedition. This expedition was completed as part of Ray's organization, impossible2Possible.
In 2008, Ray founded impossible2Possible (i2P), an organization that aims to inspire and educate youth through adventure learning, and inclusion and participation in expeditions. Ray continues to volunteer daily in this organization.
Ray is a proud member of the board of Directors of the Ryan's Well Foundation, is the official Athletic Ambassador and a board member of the ONExONE organization, and is a representative of SpreadTheNet.
Throughout 2009 to 2011, expeditions have included: an unsupported 13 day run the length of frozen Lake Baikal, and 4 Youth based expeditions to Baffin Island, Tunisia the Amazon and Bolivia. In these expeditions Youth Ambassadors are selected and complete a grueling adventure. All of these expeditions included various challenge based initiatives through an Experiential Learning program in which thousands of students participated as active team members during the expeditions, from classrooms all over the world.
In early 2011, Ray ran across the "driest desert on Earth", the Atacama Desert in Chile. He ran 1200 kms in 20 days- with minimal daily re-supply and with his camping gear on his back. Thousands of students joined the journey via live web and video conferencing.
Ray met Will in the Sahara Race in 2005 and have been buddies ever since....
When do you plan to start?
The expedition begins on August 26th, 2011. It's approaching quickly!
How do you get to your start point? Where is the start point?
We will fly to Las Vegas, Nevada and prepare all our food and supplies there and then drive to the north border of Death Valley National Park. From there it's approx. 300km (180 miles) in length.
What will you carry in your backpacks?
We'll carry enough hydration for each 20-30km section before we see our support crew. That means in the range of 5-8 litres of water per section, food, headlamp, a small emergency medical kit, sunscreen, various lightweight items to help in our journey and one pair of trail shoes that will be taking the beating of a lifetime. The idea is to do the run as safely as possible (its called Death Valley for a reason!) but with minimal resupply.
Where will you get water?
We have organized our crew to have water/food resupply whenever accessible on our route. We will have a GPS, topo map and compass and hopefully find our team every 20-30km along the way!
So basically, we start running each day. With winding/climbing/descending it will be something like 75km per day average (probably less as the crow flies. At the end of each day we re-supply water and food- and camp for at least a few hours rest!
What will you eat during the day?
We plan to eat easy to digest foods like potatoes, chocolate and of course Nut-rients Which Will Laughin and the Nut-rients team will supply us with. Think fortified peanut butter- lots of healthy calories! Breakfasts and dinners will be larger meals, and during the running we will eat just enough to keep glycogen depletion at bay.
As well we will be monitoring our hydration using the Gatorade 3 series system.
What will be your biggest challenge(s) do you think?
The biggest challenges will be the huge mileage over 4 days combined with a water loaded pack on. Of course this is Death Valley! We are not taking anything for granted and have the utmost respect for this gruelling environment. It will be incredibly hot as we attempt our traverse in summer. Temps could reach 120F!
What type of terrain will you be running on?
We're going to be running on a little of everything but we'll be avoiding roads. We start the journey at an elevation of over 2000 meters and then start to descend to below sea level and then we head back up again to the finish.
The terrain is very rocky and is completely exposed with absolutely no shade. The ground under foot will be a wide variation of surfaces including sharp crystals (very much like broken glass), soft sand, parched salt flats and rough rock.
What do you hope to accomplish during this run?
Will is testing his Nut-rients peanut butter fuel- he plans to demonstrate what an awesome energy source it is for all athletes!
Also, Will is using this expedition to further his training and prep for upcoming projects.
Ray will be testing various new equipment to be used in future expeditions. This includes new technologies for communication, new camera equipment and foods.
For both Ray and Will this expedition will give them much needed training miles in the toughest desert on Earth!!!!
What happens after Death Valley?
Will Laughlin continues his work with Nut-rients. Nut-rients™ is a blended-value company with a for-profit and a non-profit entity linked by a common mission: providing Nut-rition for a hungry world. Nut-rients™ LLC sells premium, nutritionally-fortified nut butters (snacks) to US consumers, donating a significant percentage of its revenues to Nut-rients™ Foundation*. Nut-rients™ Foundation*, in turn, supports sustainable economic development projects—including the production and distribution of fortified peanut butter—in beleaguered regions around the world. Of course he is always in training for something....stay tuned!!!
In late 2007 Ray Zahab, his wife Kathy, Bob, and some close friends founded the organization impossible2Possible. Our goal is to use exciting adventures as a backdrop for an innovative Experiential Learning Program. The idea is to conduct 3 expeditions per year on various topics. 2 of the three projects would see selected Youth Ambassadors completing the expedition- THEIR expedition, with us in tow. These have included RunningTunisia in 2010 where 4 youth ran across southern Tunisian Sahara, a distance of 268 km in 8 days. They shared their adventure- what they were learning about themselves and the educational topic of water- with thousands of their teammates in classrooms all over the world. The Youth Ambassadors utilized video conferencing, a live website, tracking, video/photo journaling plus a comprehensive Educational Program to achieve this. Students in classrooms were then challenged to help the Youth Ambassadors in meaningful action. By December 2010, enough money had been raised by students all over the world to construct 2 water projects in Africa through established water based NGO's. Youth Expeditions have also included treks/runs on Baffin Island, Amazon Jungle, and most recently Bolivia. There is no cost for participating schools, and there are no costs for the Youth Ambassadors to participate on an expedition !
One of the three yearly expeditions is an exciting and compelling story where limits are pushed, and participation with schools once again is live and participatory. Examples of these are 2008's Canada ONExONE in which Ray and team ran 80 km per day average in each of Canada's 13 provinces and territories in so many days. Also, our 2009 South Pole Quest expedition, the Siberian Express expedition, and Atacama Extreme last winter. Click here to re-visit past i2P expeditions. Next in this series is an attempted 2,000km run across Saudi Arabia in January 2012. The back-up plan is to attempt a run across the Kalahari. Equally exciting!!!
Next up? i2P Youth Expedition India(pdf) this October!!!
Schools, register here for what will be an incredible expedition of inspiration, education and empowerment!!!
For expedition inquiries, please contact Matt Howe or Adriana Rossi.