At the heart of every i2P Expedition are volunteers who make i2P what it is! We know the faces of the runners, but there are also the logistics, research and education teams. Although there is variability, a typical i2P Youth Expedition team has 15-20 people working together in service of a common educational goal! For World Class Expeditions, for example when Kevin, Richard and Ray trekked for 33 days to the South Pole or when Ray and Kevin spent 13 days running the length of Lake Baikal in Siberia, they were unsupported, and therefore alone!
The team configuration for Expreso de los Andes will be a streamlined model similar to last year's supported Atacama Extreme expedition, with the addition of science and on-the-ground logistics teams. At home, members of the i2P Education Team will keep the websites updated, ensuring that registered schools have access to the live videoconferencing and educational resources. As always, the real heroes of the i2P Expeditions are the Youth Ambassadors. They not only defy any perceived physical or mental barriers in their own lives, but they truly inspire the thousands of students who follow their every step during an expedition.
For the first time in i2P history, 2 selected Youth Ambassadors from previous Youth Expeditions will join Ray and Kevin at the end of a World Class Expedition. Their goal is to run the last 120km non-stop with Ray and Kevin.
The Runners
Ray Zahab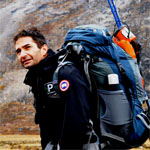 In 2006/7, Ray and two other runners ran the entire width of the Sahara Desert-7500 kms (4600 miles) in 111 days with no rest days-and in the process learned of the seriousness of the water crisis in Africa. The run was documented in a film directed by Oscar winner James Moll and narrated by Matt Damon. One of the goals of the film is to raise awareness for the water crisis in Africa. Following the Sahara expedition, Ray decided to dedicate and volunteer his time engaging Youth in the concept that we are all capable of the extraordinary. Ray is the founder of impossible2Possible, official Athletic Ambassador for the ONEXONE organization and is a board member of the Run For Water, and an advisor to Ryan"s Well Foundation. Ray has completed 17 expeditions to date- including i2P Youth Expeditions and was recently a member of the South Pole Quest, the Siberian Express teams and in early 2011 ran the length of the Atacama Desert. In summer 2011 he crossed Death Valley National Park off-road, and in 2013 he ran over 2,000km across Mongolia and the Gobi Desert. Visit RayZahab.com.
Stefano Gregoretti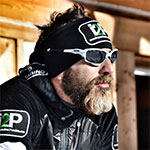 Deserts mountains. Forests,dunes,treks... Uphill,downhill,never give up...run and run again. That's my dimension. That's my thirst for life. Limits? None
Born in Riccione in 1974. Very freil as a child and with a little scloiosis, I was forced by my mum to swim every day to better my health . My coach Marcello remembers me even now as a hopeless case!
From an early age I attended the ski slopes of the Dolomites practicing alpine skiing only later that he still prefer. Still living by the sea, the pool will be for a long time my sporting environment , more precisely, water polo, but never leaving the mountains for a long time, with friends or even alone with my dogs, going on long climbing or trekking is a fixture. In 2005 I approach triathlon, combining my thirst for challenging workouts and also competition .... and since then I have crossed continents, deserts and mountains to give vent to my thirst for life .... more without stopping...
Since then 2 place overall at the RTP Nepal 250 km running the Himalayan valley , 2 place at Grand2GRand Ultra running 275 km in Utah desert, 1 place overall Yukon Arctic Ultra running 160 km in frozen Canada, 1 place overall The Gobi March in Mongolia with RTP running 250 km in Gobi Desert
Ryan Grant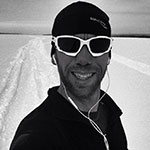 Ryan is a former competitive runner (sub 30min 10k runner) and spent a year training full-time at the Australian Institute of Sport in the mid 90s. He then went on to compete in Adventure Racing, racing multiple week long races around the globe including the Southern Traverse in New Zealand. After setting up his business with his sister, Ryan turned to triathlon and competed as a professional for 4 years placing top 10 in multiple 70.3 races (runner up at Tremblant 70.3 in 2012) throughout North America. His passion is helping active individuals return to sport and he travelled to Ethiopia in the winter of 2013 to lend his services at a high altitude training camp for elite runners.
Ferg Hawke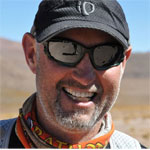 Ferg is a 53 year old father of two children, Carter age 21, and Connie age 18. He lives in South Surrey British Columbia with Cheryl his wife of 26 years. Ferg has been competing in triathlon, marathon and ultra marathons since 1989.
His triathlon resume includes a 9:27 Ironman and a third place finish at the three day Ultraman Triathlon World Championships in Kona Hawaii. Ferg has run a 3:01 marathon split at the Ironman and a 6:44 clocking in the double marathon leg of the Ultraman. Ferg also competed for Canada as a member of the Canadian National Triathlon team in 1991, representing Canada at the World Triathlon Championships in Surfer's Paradise, Australia.
In the sport of ultra marathon Ferg finished first place in the inaugural Eagle 100 miler, Canada's toughest trail run. In the world-renowned classic multi-stage Marathon des Sables, held in the Sahara desert in Morocco, his eighth place performance is the highest ever by a North American. Ferg has twice finished 2nd overall that the 135 mile Badwater Ultramarathon held in Death Valley California. Ferg has also worked on the "Run For One Planet" team as a physical trainer and nutrition consultant during Matt Hill and Stephanie Tait's amazing 11,000 mile run around North America.
To The Edge Film Team
Zachary Shields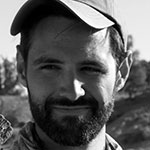 Zachary Shields is an Independent filmmaker based in Indianapolis, IN and Washington, DC. He is currently the owner of Nischan Pictures Inc. (www.nischanpictures.com) His passion is to be in the field shooting stories as they unfold. Zachary has covered the Indonesian and Haitian earthquake zones, i2P Bolivia and Utah expeditions, as well as untouched Alaskan rivers to tell stories of the power of nature and the outdoors. Most recently his short documentary, Awful Grace, was an official selection at the Indianapolis International Film Festival. Zachary won a Webby Award in 2006 for an innovative web documentary covering the untold stories of the devastating 2004 tsunami in Southeast Asia. When he's not in a hospital having tendons reconnected, he sometimes flies helicopters with cameras on them. Zach led the Gobi film team and has had footage recently seen on CNN, CBC National, CTV News, and Outside Television.
Natalia Gubavera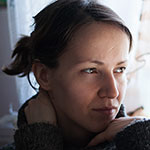 Natalia Gubareva was born in a small town in Siberia, Russia. As a little child, Natalia dreamed of traveling the world. However, being from a place known locally as the 'dead end' where the train arrives and always turns back, her ability to break away and accomplish her childhood dreams was difficult even to imagine. Natalia started exploring the world while undertaking a bachelor of digital media at the College of Fine Arts, UNSW, Australia. In addition to her full time studies she has continued to develop and exhibit her own personal work, which comprises of a unique collection of personal stories. Stories such as that of people affected by the collapse of the USSR, the everyday life of impoverished people living in the slums of India, and the remote tribal communities off the east coast of Papua New Guinea. During her time at UNSW, Natalia has complimented her knowledge of photography and videography with a thorough understanding of other digital mediums seeking to further immerse the audience in the fascinating places, stories and lives of people. Exploring digital media is a challenge and adventure that Natalia always enjoys discovering new possibilities and acquiring new skills within. Her work is not simply visual, it breathes with life, sound and energy. Natalia filmed with To The Edge: Gobi and has worked on such films as Mission Impossible, the Lego Movie and Prometheus.
Jon Golden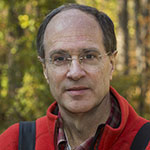 Jon Golden is a freelance photographer based in Charlottesville, Virginia. He studied at the University of Virginia and works locally and internationally. He is a founder of the Look3 / Festival of the Photograph. He was most recently published in Virginia Quarterly Review (Sustainable and the December 2012 issue of Italian Vanity Fair. He has lived in Sydney, Australia, and more recently Oslo, Norway. He has made photographs and videos around the globe with a particular interest in cold northern latitudes. John was a member of the Gobi team and recently had photos published in Canadian Geographic, Breathe Magazine, German GEO among others.
Mike Schaffel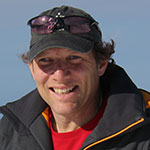 Mike loves traveling, outdoor adventures and camping. He is a retired adventure racer: twice part of the 4th place team at the Canadian Championships, Beast of the East, Appalachian Extreme and Raid the North finisher. Mike is passionate about documentary style storytelling and specializes in handheld filming, location lighting, single and multi camera setups.
Mike has worked on many notable projects such as: The Project: Guatemala, The Amazing Race Canada, Mantracker, The Quest For The Cup, Cache Craze, Style By Jury, and Making The Cut. Mike just got back from shooting the 2014 Winter Olympics in Sochi.
i2P Fitness Challenge Team
Adriana Rossi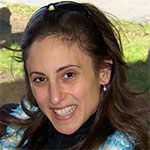 Adriana Rossi has been passionate about developing Leadership in youth for 20 years. She has worked extensively in both the private and public secondary school system initiating programs such as the Duke of Edinburgh Award and outdoor education and leadership programs. Adriana holds a Masters of Arts in Leadership and Training from Royal Roads University in British Columbia and a Bachelors Degree in Physical Education from McGill University in Montreal. In addition she is the president of Leadership Ventures which focuses on sustainable leadership development within organizations. She is an avid outdoor enthusiast, triathlete and enjoys spending time with her family.
Brad Smith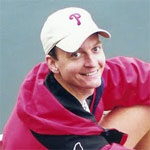 Brad is an experienced Human Resources Executive with one of the largest companies in Canada. He has an extensive background in Board of Director management, talent and organizational development and cultural change management. Brad enjoys all of the time he can get outdoors with his wife and two wonderful kids. As a lifelong athlete he has played elite hockey, baseball and is an avid participant in Ironman 70.3 and other endurance events. Brad has a passion for youth development. As an educator at the university level, working with i2P and the Duke of Edinburgh leadership award program he is fortunate to be able to help youth expand their horizons and reach their potential. He has earned an Executive Masters in Business Administration from the University of Ottawa, a Bachelor of Commerce (Honours) Degree from the University of Manitoba and a Human Resources and Compensation Committee Certification from The Directors College and McMaster University.
Matt Howe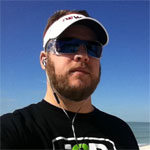 Matt, an outdoor enthusiast is a husband and father of two adventurous young children. He is a passionate educator who has worked in public education for the past 10 years. After receiving his B.A. in Sociology with an emphasis in criminology and law, he earned his Masters in Education from the University of Minnesota. A lifelong resident of Stillwater, Minnesota, Matt currently works as an information savvy technology coordinator and strives to help teachers develop strategies to work with our digital generation.
Several years of a 1:1 learning environment has allowed Matt to develop an understanding of key learning theories and methods of instruction within educational technology. As a technology advocate, Matt has had the opportunity to present on a local and state level as well as to visitors from around the world.
In 2009, Matt was selected as an Apple Distinguished Educator which has allowed him to further his role as an author, advisor, ambassador and advocate of technology through experiential learning opportunities on a global platform. Matt continues to engage learners on their path to the possibilities of being a part of the next big thing!
Dean Rowland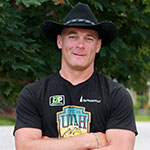 Dean is a Grade 7 Teacher at Osoyoos Elementary in Osoyoos BC, Canada. He learned about I2P through an online interview (ultrarunnerpodcast.com) with Ray in 2012. The following school year he followed both the Botswana and Utah expeditions with his class, and this past fall followed Expedition Peru. He has found the experiences fit perfectly into the Inquiry / Project Based and Personalized Learning approach he is using with his students to meet learning outcome goals.
Dean completed his first marathon at the end of his first year of teaching in 2000. He has since completed an endurance event each year as a means to keep himself sharp and motivated. The events have included multiple marathons, a fifty mile ultra, and 3 Ironman Canada finishes. This coming August he will be toeing he line at his first long Ultra - the Fat Dog 100 in southern BC.
Dean has embraced the I2P message this past year and a half and has found the expeditions provide an incredible springboard to share his love of fitness with his class, school and community. Last year, leading up to Expedition Utah, over 50% of the student population at Osoyoos Elementary participated in Ray's Run Challenge Training Program that culminated in a community 5K run that raised over $4000 to help re-build the school playground! His school will be following the same Run Challenge this spring that will culminate in a 5/10 K community run in May.
Bob Cox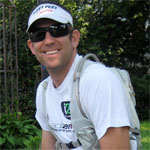 A lifelong athlete, in 2007 Bob Cox discovered a passion for endurance endeavors. Since then he has been an active participant and logistical leader in numerous expeditions including running multiple legs of the Canada OnexOne, an unsupported trek across Baffin Island in Canada's Arctic, a trek through the Brazilian Amazon, running expeditions across the Northern Sahara in Tunisia, the mountains of Bolivia, and the Thar Desert in India. He accompanied Ray Zahab in his Atacama Desert crossing. An avid runner, Bob has achieved multiple top ten finishes at trail races including the highly competitive San Francisco 24 hour. He spent much of his youth surfing in the Pacific Ocean and from those experiences an appreciation for our planet was born. Bob earned a Bachelor of Arts Degree in Political Science with an emphasis on Public Policy from California State University, Northridge. His appreciation for clean drinking water grew from his profession as potable and Recycled Water Cross Connection Specialist in California. In October 2007, Bob met Ray at a Livestrong event in Texas and from that moment he knew his life had changed. He is a dedicated husband, father, and the Co Founder/Executive Director of impossible2Possible.
John Zahab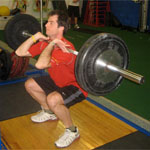 John is a Certified Strength and Conditioning Specialist through the National Strength and Conditioning Association and a Certified Personal Trainer through the Canadian Society for Exercise Physiology. He has worked full time in the strength and conditioning field for over ten years, and has had the opportunity to work with athletes from a broad spectrum of sports, including those competing and performing at the national and professional levels. Recent career highlights include the development of strength and conditioning programs, which assisted two Canadian athletes to qualify and compete at the Beijing 2008 Olympic Games. John has developed his training philosophy to provide targeted training for each individual's needs - based on a foundation of stability and control, functional movement, and balanced strength while progressing towards performance goals. John organizes the training programs for the Youth Ambassadors.
For almost half of his lifetime John has trained for and has competed in a variety of disciplines of endurance sport. Some areas where he has pushed his endurance limits include: Triathlon (Olympic Distance to Ironman Distance), Bike Racing (Road), Adventure Racing, and Trail Running.
Todd Shannon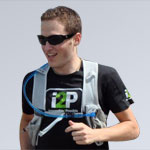 A graduate of the University of Ottawa (B.Com, 2007) and Queen's University (MBA, 2010), Todd helps deliver i2P's message to the forefront as our Digital Communication Coordinator.
Todd is a marketing, communications, branding, and business strategy specialist with experience in the non-profit and environmental/sustainability sectors, as well as an avid outdoor enthusiast, athlete, and dedicated volunteer. He believes that, with positivity, tenacity and enthusiasm, we are all capable of achieving anything that we set our minds to.
Jordan Thoms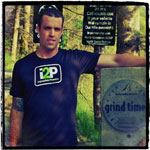 The last several years have given me the hindsight that human beings have absolutely no limits. As an educator, I believe that education is not about filling a bucket, but rather lighting a fire. Education is about connecting an enriching experience and sharing a vision of ongoing learning. It's also about guidance through an individualized learning experience, leading to an empowered autonomy of self. Candles do not lose their fire by lighting another candle and by providing an initial spark, everyone become their own fire of limitless potential. I believe that if we hope to inspire and educate, we must involve everyone in the process. Nothing in the world is more rewarding than being able to help someone achieve something they didn't know they were capable of doing! I find it absolutely necessary to keep pushing our comfort zones - mentally, physically and spiritually. We all have the potential to do so much more than we think! My interests lie in adventure, education, health & physical education, kinesiology, multimedia social technology, social & environmental youth activism and global connectivity. My favourite sports include long-distance running, ice hockey and weight training.
"Tell me and I'll forget; show me and I may remember; involve me and I'll understand."
Nick Gravel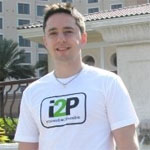 Nick Gravel is the Director of Technology Development at Momentous Corporation based in Ottawa (Canada) where he gets to work with one of the brightest and most passionate group of web technology minds in the industry. Nick brings to the i2P team his skills in managing the delivery of high performance Internet based technology solutions, extensive knowledge of software engineering best practices and award winning entrepreneurship experience. His educational background is a Bachelor of Engineering (Communications) degree earned at Carleton University.
Nick is actively involved with the growth of i2P's web presence. His efforts are mainly focused on the ongoing development of web based solutions that enable real-time two-way communication between our audience and i2P team members during expeditions.