Expedition Runners
Ray Zahab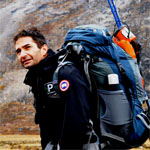 In 2006/7, Ray and two other runners ran the entire width of the Sahara Desert-7500 kms (4600 miles) in 111 days with no rest days-and in the process learned of the seriousness of the water crisis in Africa. The run was documented in a film directed by Oscar winner James Moll and narrated by Matt Damon. One of the goals of the film is to raise awareness for the water crisis in Africa. Ray is an established ultra marathoner and speaker who uses his athletic career to support intiatives and causes he believes in. Ray is official Athletic Ambassador for the ONEXONE organization and is a board member of the Ryan's Well Foundation. Ray has completed 8 major expeditions to date and was recently a member of the South Pole Quest, the Siberian Express teams and in early 2011 ran the length of the Atacama Desert. He is the founder of impossible2Possible. Visit RayZahab.com.
Kevin Lin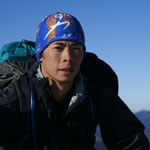 Kevin is an accomplished ultramarathoner, having placed incredibly well in every event that he has ever entered. Kevin was a member of the Running The Sahara team and continues to run in expeditions worldwide. Passionate about our youth, Kevin coordinates adventure camps in his home Taiwan. impossible2Possible is proud to have Kevin coordinating our Asia activities. Kevin is a graduate of National Chung Cheng University, receiving his major from Graduate Institute of Sport and Leisure Education.
Expedition Team
Bob Cox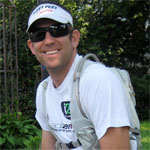 A lifelong athlete, in 2007 Bob Cox discovered a passion for endurance endeavors. Since then he has been an active participant and logistical leader in numerous expeditions including running multiple legs of the Canada OnexOne, an unsupported trek across Baffin Island in Canada's Arctic, a trek through the Brazilian Amazon, running expeditions across the Northern Sahara in Tunisia, the mountains of Bolivia, and the Thar Desert in India. He accompanied Ray Zahab in his Atacama Desert crossing. An avid runner, Bob has achieved multiple top ten finishes at trail races including the highly competitive San Francisco 24 hour. He spent much of his youth surfing in the Pacific Ocean and from those experiences an appreciation for our planet was born. Bob earned a Bachelor of Arts Degree in Political Science with an emphasis on Public Policy from California State University, Northridge. His appreciation for clean drinking water grew from his profession as potable and Recycled Water Cross Connection Specialist in California. In October 2007, Bob met Ray at a Livestrong event in Texas and from that moment he knew his life had changed. He is a dedicated husband, father, and the Co Founder/Executive Director of impossible2Possible.
Judith Stuhrenberg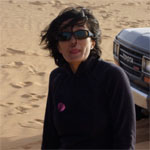 Judith Stuhrenberg was born in Paris, and graduated with degrees in history and geography from La Sorbonne. After finishing her formal education, she became an agent for some of the world's top photographers. Evenually she began to travel to the Sahara, where she has been working now for almost 20 years, organizing photo and film shoots, scientific expeditions, rallies, and reports for many of the world's top media outlets. She speaks French, English, German, and Spanish. When not traveling, she lives with her family in Paris.
Zachary Shields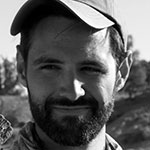 Zachary Shields is an Independent filmmaker based in Indianapolis, IN and Washington, DC. He is currently the owner of Nischan Pictures Inc. (www.nischanpictures.com) His passion is to be in the field shooting stories as they unfold. Zachary has covered the Indonesian and Haitian earthquake zones, i2P Bolivia and Utah expeditions, as well as untouched Alaskan rivers to tell stories of the power of nature and the outdoors. Most recently his short documentary, Awful Grace, was an official selection at the Indianapolis International Film Festival. Zachary won a Webby Award in 2006 for an innovative web documentary covering the untold stories of the devastating 2004 tsunami in Southeast Asia. When he's not in a hospital having tendons reconnected, he sometimes flies helicopters with cameras on them.
Jon Golden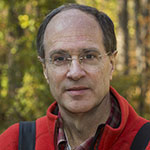 Jon Golden is a freelance photographer based in Charlottesville, Virginia. He studied at the University of Virginia and works locally and internationally. He is a founder of the Look3 / Festival of the Photograph. He was most recently published in Virginia Quarterly Review (Sustainable and the December 2012 issue of Italian Vanity Fair. He has lived in Sydney, Australia, and more recently Oslo, Norway. He has made photographs and videos around the globe with a particular interest in cold northern latitudes.
Amber Zan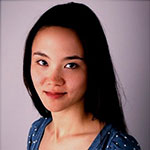 Amber is a photographer and writer who while traveling, documents her experiences and discoveries of new places. Both an accomplished photographer and translator, Amber is experienced in translating documentaries from Mandarin to English for production companies based in Shanghai and Berlin. She blogs about her travels at alongholiday.com and entices her readers to go along on the adventure, whether it's to a rural village in Cambodia or a luxury ski resort in Switzerland. Amber was born in Vancouver, Canada and currently resides between Hong Kong and Berlin, Germany.
Natalia Gubavera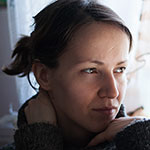 Natalia Gubareva was born in a small town in Siberia, Russia. As a little child, Natalia dreamed of traveling the world. However, being from a place known locally as the 'dead end' where the train arrives and always turns back, her ability to break away and accomplish her childhood dreams was difficult even to imagine. Natalia started exploring the world while undertaking a bachelor of digital media at the College of Fine Arts, UNSW, Australia. In addition to her full time studies she has continued to develop and exhibit her own personal work, which comprises of a unique collection of personal stories. Stories such as that of people affected by the collapse of the USSR, the everyday life of impoverished people living in the slums of India, and the remote tribal communities off the east coast of Papua New Guinea. During her time at UNSW, Natalia has complimented her knowledge of photography and videography with a thorough understanding of other digital mediums seeking to further immerse the audience in the fascinating places, stories and lives of people. Exploring digital media is a challenge and adventure that Natalia always enjoys discovering new possibilities and acquiring new skills within. Her work is not simply visual, it breathes with life, sound and energy.
Chang Lin Yeh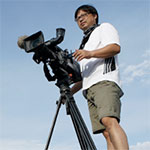 Accomplished in film and media, Chang was a shooter for Taiwan TVBS TV from 1996-2000, then moved to SET TV station fro 2000-2008, eventually landing at CTI TV station from 2008-2013. In 2011, he joined Kevin Lin on his 10,000 km odyssey across the Silk Road as Director of Photography, recording for Asian media. Kevin's run was filmed for a National Geographic special.
Home Base
Davin Stone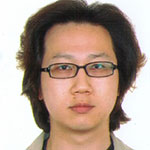 Davin was born in Taipei. He has experience as an all around swimmer, specializing in individual medley & middle-distance freestyle, and was a member of the Taipei Water Polo Team. He has great enthusiasm, a strong will, and innate curiosity, especially his fascination of water - from surfing, swimming, water polo, canoeing, and more! His broad interests have offered him a wide range of rich and meaningful experiences including: former professional athlete, coach, team leader, and assistant coach of Kevin Lin, accompanying him in various competitions in France, Taiwan and the like. Davin has now begun studying hydraulics engineering. With his passion for all things water, and strong dedication, he has made great contributions to the R&D of new products and successful operation of the ERP program.
Rolf Dengler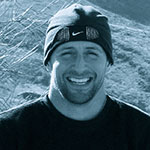 Rolf was born in San Francisco. His main passions in life are survival study, photography, trekking and deserts! His occupation is an on call logistics coordinator, and currently a student. Logistics work in the past has included the 2010 Kokopelli Trail Ride in Moab, Utah, the 2006 Gobi March in China, and 1998 FBI Hostage Rescue Course in Sierra Nevada, California. Rolf's adventure race work has been wide ranging and for various teams around the globe, from 1997-2001. Upcoming is the 2013 TASSC Desert Trek in California, this July! Rolf is 46 years old.
Donovan Webster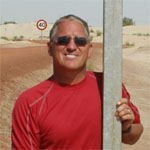 Donovan Webster is a journalist and author. A former senior editor for Outside magazine, he now writes for National Geographic, Smithsonian, Best Life, Vanity Fair, Men's Health, Garden & Gun, and The New York Times Magazine, among other publications. He lives with his family outside Charlottesville, Virginia, United States.
In 1996, he co-founded Physicians Against Landmines/Center for International Rehabilitation (CIR). An international, non-governmental humanitarian organization, CIR was a co-recipient of the 1997 Nobel Peace Prize. CIR sponsors wheelchair and prosthetics programs, plus prosthetics-fabrication training and disability advocacy, in post-conflict nations worldwide. In 2006, working with the United Nations Special Rapporteur for Disabilities, CIR was central to the UN's Convention on the Rights for Persons with Disabilities, the most-rapidly ratified UN Convention to ever gain approval by the UN General Assembly. He currently serves as CIR's vice-chairman.
Jordan Thoms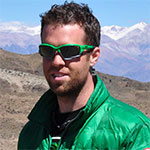 The last several years have given me the hindsight that human beings have absolutely no limits. As an educator, I believe that education is not about filling a bucket, but rather lighting a fire. Education is about connecting an enriching experience and sharing a vision of ongoing learning. It's also about guidance through an individualized learning experience, leading to an empowered autonomy of self. Candles do not lose their fire by lighting another candle and by providing an initial spark, everyone become their own fire of limitless potential. I believe that if we hope to inspire and educate, we must involve everyone in the process. Nothing in the world is more rewarding than being able to help someone achieve something they didn't know they were capable of doing! I find it absolutely necessary to keep pushing our comfort zones - mentally, physically and spiritually. We all have the potential to do so much more than we think! My interests lie in adventure, education, health & physical education, kinesiology, multimedia social technology, social & environmental youth activism and global connectivity. My favourite sports include long-distance running, ice hockey and weight training.
Nick Gravel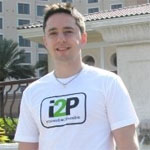 Nick Gravel is the Director of Technology Development at Momentous Corporation based in Ottawa (Canada) where he gets to work with one of the brightest and most passionate group of web technology minds in the industry. Nick brings to the i2P team his skills in managing the delivery of high performance Internet based technology solutions, extensive knowledge of software engineering best practices and award winning entrepreneurship experience. His educational background is a Bachelor of Engineering (Communications) degree earned at Carleton University.
Nick is actively involved with the growth of i2P's web presence. His efforts are mainly focused on the ongoing development of web based solutions that enable real-time two-way communication between our audience and i2P team members during expeditions.
Media Contacts
Codie Taylor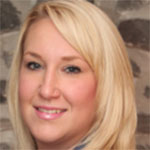 Throughout her career, Codie's guiding principles have been hard work, dedication, and respect. As a result, she has formed strong relationships with Members of Parliament and members of the media.
In her time at Bluesky, she has assisted clients such as COM DEV by providing support for a major national space announcement with NASA and the Canadian Space Agency. Codie has also worked with Sustainable Development Technology Canada, Telefilm Canada, the Canada Media Fund and the Calgary International Film Festival. She has helped lead media relations activities for the Heart and Stroke Foundation's 'Back to School' campaign and helped coordinate red carpet activities at the 2013 Canadian Screen Awards in Toronto.
For Media Inquiries, Contact Codie at: Codie@blueskystrategygroup.com
Susan Smith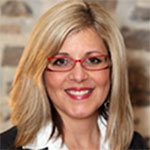 A principal at Bluesky Strategy Group, Susan Smith has been providing private sector and public sector clients with strategic communications, public affairs and media relations advice and coaching for more than 20 years. From the film and television sector to international transportation companies, First Nations, health care, science and clean technology, sports and political sectors, Susan has advised CEO's, Cabinet Ministers, leaders of organizations and officials on how to creatively and effectively craft and present their messages to achieve their communications goals. Susan's clients have included government departments, national associations, global and domestic companies, government-funded organizations and local organizations in sectors including health care, aboriginal affairs, environment, agricultural, film and television and not-for-profit. Prior to the founding of Bluesky Strategy Group, Susan worked in senior communications capacities with several other national public relations firms, including heading her own practice in Calgary. She also served as the Communications Advisor to the Federal Minister of Transport and the Minister of Human Resources Development.
For Media Inquiries, Contact Susan at: Susan@blueskystrategygroup.com